New PON Technologies for Fiber Network Transformation
Nowadays, over the top TV and video on demand streaming are the main drivers for additional bandwidth to your subscribers. And you can add to this the content and applications such as video surveillance, remote health care, video file transfers, gaming and others that are contributing to the subscriber demands for faster and faster speeds.
Operators are looking for ways to support their subscribers' needs without spending massive amounts on network architecture. Driven by the explosion of bandwidth-consuming services and the need to minimize costs, PON architectures have been evolving to provide enhanced speeds and services for operators.
A passive optical network (PON) is a last mile, fiber-to-the-x network that broadcasts data through fiber optic cables. The PON data stream is subsequently converted to a more traditional service such as Ethernet and Wi-Fi when it reaches the subscriber's location. A PON network offers higher reliability and lower cost in comparison to other broadband architectures.
GPON Roadmap - Ability and Flexibility
The original GPON technology had the ability to supply 2.5G downstream and 1.25G upstream. But with the demand from subscribers and their perceived need for even faster speeds, GPON technology next evolved to NGPON 1, the next generation of ultra-fast broadband. While NGPON 1 had the ability to supply 10G service to satisfy subscribers, it became a large infrastructure investment for operators.
In 2010, XG-PON became standardized, providing 10G/2.5G asymmetric bandwidth.
In 2016 the industry moved on to XGS-PON (10G down / 10G up) – with the XGS being the acronym X for 10, G for Gig and S for synchronous. XGS-PON is a higher bandwidth, symmetrical version of GPON. This was used for those areas with a high bandwidth requirement, such as universities and hospitals, but operators wanted something more (faster) for their residential customers.
Enter NG-PON2 (10G down / 10G up, 10G down / 2.5G up) which was standardized to include asymmetrical 10G/2.5G and symmetrical 10G/10G, as well as multi-channel and tunable wavelengths. NG-PON2 is a Multi-Wavelength PON system that co-exists well with GPON, XG-PON, and XGS-PON. It has the advantage of being capable of growing up to 80 Gbits by layering eight NGPON1 10G layers on top of the NGPON2 platform.
The increased bandwidth capacity and flexibility of NG-PON2 opens up a new range of possibilities for fiber networks:
NG-PON2 adds to the customer experience by letting users share the unused common part of the bandwidth capacity. An operator can guarantee that 1 Gbps of bandwidth will always be available to all users. And using NG-PON2 can allow users to burst above their assigned bandwidth up to 10Gbps to accelerate actions such as downloading HD movies or backing up data to cloud storage.
NG-PON2 can accelerate the process of bringing more bandwidth to more users by deploying deep fiber micro-nodes to quickly and cost-efficiently cover more users.
The benefits of NG-PON2 are undeniable, and as such the technology is bringing many necessary changes to the industry. NG-PON2 will accelerate growth potential by adding capacity and flexibility. Operators can also realize more revenue by merging multiple services onto one fiber, and lower costs by preserving their already existing fiber investments. The upgrade path to NG-PON2 uses the same components as current GPON networks and simply overlays new active components on top.
NG-PON2 is the network technology that supports the widest range of subscribers and applications so far. Deployments are already a reality in some markets.
Want to learn more about XGS-PON and NG-PON2? Watch this video from our Tech Tuesday broadcast on how next-generation PON will increase capacity (and revenue).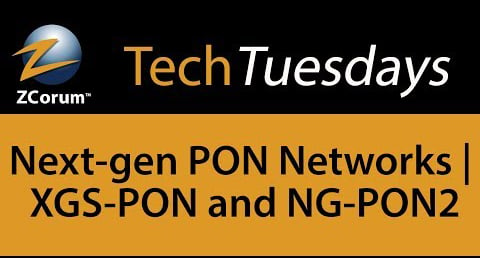 Marsha brings thirteen years of experience in the broadband industry as a Marketing Specialist and Technical Writer.
Never miss a post.
Enter your email to subscribe: