Ask a Broadband Expert - DOCSIS Pre-Equalization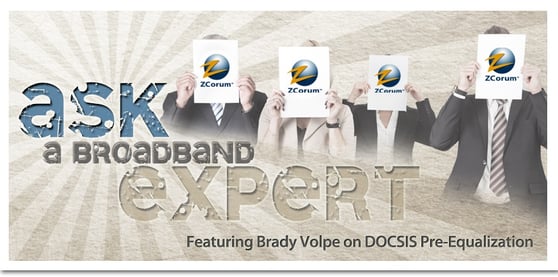 DOCSIS pre-equalization is a subject that every cable provider should know more about. With a simple line of code on the CMTS, you can achieve an immediate and significant improvement in your upstream signal levels.
Pretty important stuff, so we tapped Brady Volpe, one of the foremost experts on the subject for a live hangout, where he and Scott Helms, ZCorum's VP of Technology chatted about the
benefits of pre-equalization.
Of course, there's the obvious benefits from a better upstream signal. But there's more. Brady is a member of CableLabs InGeNeOs™ group, which has developed standards that aid in the creation of exciting Proactive Network Maintenance (PNM) tools that make use of the equalization data to point out the location and severity of upstream impairments. This can allow you to find and fix problems before they impact your subscribers, which means lower maintenance costs, fewer outages and happier customers.
The live hangout is over, but you can watch a recorded version below.
Can't get enough about pre-equalization and PNM? You can dive into the deep end of DOCSIS pre-equalization by downloading a free technical whitepaper by Brady below.
Marsha brings thirteen years of experience in the broadband industry as a Marketing Specialist and Technical Writer.
Never miss a post.
Enter your email to subscribe: