What Weather Can Do To Your Fiber Optic Cables - Part 1: Wind & Water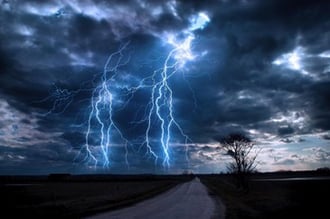 A lot has happened in recent years that's changed people's reliance on communication. Before the pandemic there was pressure to get the power back on after a storm, today it's more about 'Why isn't my phone working? Why isn't my internet working?' Everyone is much more dependent on technology than before.

Connectivity for your subscribers—especially during an emergency, is now their priority. Being able to access the internet after a weather situation means they can run their businesses, find supplies like food and fuel, and connect with their loved ones to let them know they're alright. And while fiber optics by design are weather-resistant, the technology isn't perfect. Though fiber has fewer operational and maintenance issues than copper, weather is still a serious factor in upholding your subscribers' expectations for on-all-the-time connectivity.

Fiber networks, especially the ones built underground, are exceptionally reliable and will outlive brutal weather without breaking. However flooding can damage fiber even when deployed underground. As a result, broadband wireless service can be knocked out for an entire region in cases of extreme flooding especially in coastal areas.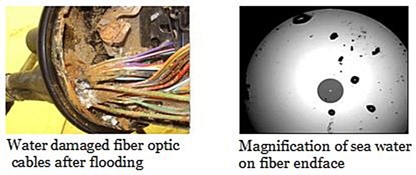 But for the most part, underground installations will remain stable during inclement weather. In 2017 Hurricane Irma battered parts of Florida, Texas and the Caribbean. Local fiber networks hummed along, supporting strong internet connections. And major data centers in these areas kept their doors open thanks in part to fiber.

Unfortunately not every installation can be underground. In some areas, installing fiber on poles is not just a matter of economics, but also of necessity. Aerial installations can be problematic in the unusually high wind conditions of hurricanes or tornados. High winds, like the ones experienced when Hurricane Michael hit parts of Florida and Alabama in 2018, can uproot trees that fall on utility lines or knock over entire poles, taking above the ground fiber optics down with them.
Last month, Hurricane Ian reminds us how destructive these storms can be on aerial fiber installations. Some of the above ground fiber optic networks were knocked out after enduring the 150 mph winds. Internet access was hard-hit where there were some near-total blackout conditions due to the destruction of utility poles, power lines and cell towers.

Weather disasters, whether forecast or from out of the blue, will continue to bring about disruption on fiber-optic networks. Being prepared by having a repair strategy in place will be the best way to manage the recovery. Assemble the tools needed and train your technicians in making post-disaster fiber repairs quickly and safely.
Marsha brings thirteen years of experience in the broadband industry as a Marketing Specialist and Technical Writer.
Never miss a post.
Enter your email to subscribe: